Marvel ha pubblicato le cover e le relative sinossi dei fumetti  legati all'evento mutante X of Swords e che arriveranno nelle fumetterie statunitensi a novembre. Gli X-Men e tutti gli altri abitanti di Krakoa dovranno vedersela con la minaccia di Arakko, di cui vi abbiamo già parlato a queste coordinate. A seguire potete vedere, in anteprima, i titoli in arrivo con, come già detto, la sinossi.
X-MEN #14
Scritto JONATHAN HICKMAN
Disegnato da MAHMUD ASRAR & LEINIL FRANCIS YU
Cover di LEINIL FRANCIS YU
X of Swords, Chapter 1
MARAUDERS #14
Scritto da GERRY DUGGAN & BENJAMIN PERCY
Disegnato da STEFANO CASELLI
Cover di RUSSELL DAUTERMAN
X of Swords, Chapter 13.
MARAUDERS #15
Scritto da GERRY DUGGAN & BENJAMIN PERCY
Disegnato da STEFANO CASELLI
Cover di RUSSELL DAUTERMAN
X of Swords, Chapter 14
EXCALIBUR #14
Scritto da TINI HOWARD
Disegnato da PHIL NOTO
Cover di MAHMUD ASRAR
X of Swords, Chapter 15
WOLVERINE #7

Scritto da BENJAMIN PERCY & GERRY DUGGAN
Disegnato da JOSHUA CASSARA
Cover di ADAM KUBERT
X of Sword, Chapter 16
X-FORCE #14
Scritto da BENJAMIN PERCY & GERRY DUGGAN
Disegni di JOSHUA CASSARA
Cover di DUSTIN WEAVER
X of Swords, Chapter 17
HELLIONS #6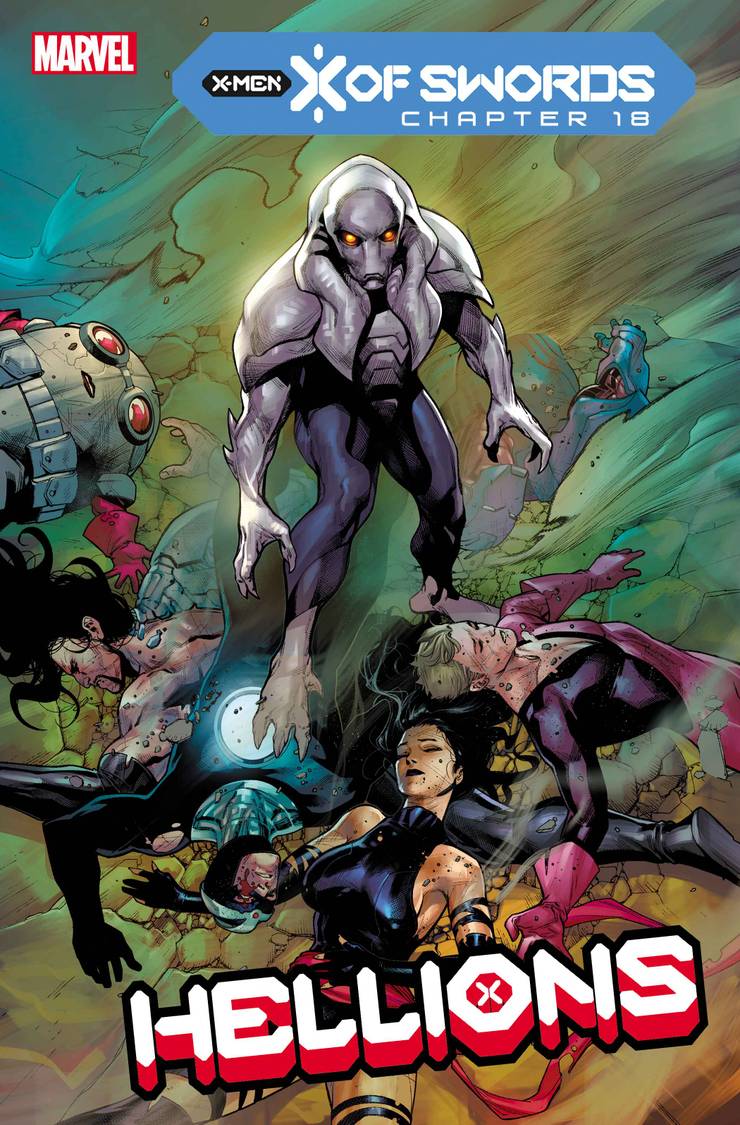 Scritto da ZEB WELLS
Disegni di CARMEN CARNERO
Cover di STEPHEN SEGOVIA
X of Swords, Chapter 18
CABLE #6

Scritto da GERRY DUGGAN
Disegni e Cover di PHIL NOTO
X of Swords, Chapter 19
X-MEN #15
Scritto da JONATHAN HICKMAN
Disegnato da MAHMUD ASRAR
Cover di LEINIL FRANCIS YU
X of Swords, Chapter 20
EXCALIBUR #15
Scritto da TINI HOWARD
Disegni e cover di MAHMUD ASRAR
X of Swords, Chapter 21
X OF SWORDS: DESTRUCTION #1
Scritto da JONATHAN HICKMAN & TINI HOWARD
Disegni e cover di PEPE LARRAZ
X of Swords, Chapter 22
Fonte: CBR